Category Archives:
Uncategorized
I am so excited to have been included in the "CARNIVAL" Show at the Greenville Creative Arts Center.  This piece is a 24×24 Encaustic and was inspired by a mission trip my family took to the Bahamian Island of Eleuthra in 2006.  We met a fabulous family, the DeCostas of Rock Sound, Eleuthra, Bahamas.  We learned about the annual Junkanoo festival, very similar to the Carnival or Rio De Jeneiro, Brazil.  Hence, the name of this artwork is "Spirit of Junkanoo".  I hope you get a sense of the vibrant colors and festive celebration of these beautiful island people.
'Back to My Roots': Artist Carey Lee Hudson's work on display at OCFA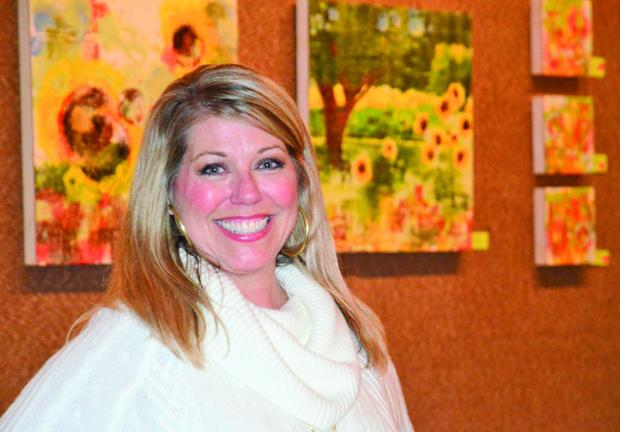 "Painting is more than a hobby," Carey Lee Hudson says. "I guess it's kind of like a journal. It's a way of leaving something behind — of this is where I've been. This is who I am."
The Orangeburg native currently lives in Greenville where she's a working artist, but she was recently in town for the opening of "Back to My Roots," an exhibit of her paintings at the Orangeburg County Fine Arts Center.
"Painting is my happy place," Hudson said. "My husband always says, 'I can tell you've been painting today. You're in a great mood.'"
But painting is more than just a way to relax or enjoy herself, according to Hudson.
"I like to tell a story or indicate something that's of importance . . . (whether it's) a trip that I've been on or a place that is special to me," she said.
It also gives her the opportunity to share her God-given talents and glorify him, Hudson said.
"My faith, my Christianity is very important to me," she said. "When I spend my time, whether it's in the studio or at a Bible study or parenting my child, I really try and seek to do everything that I do to glorify God."
Art is one way she can do that, Hudson said. When she paints a landscape, she said she looks at it as God's creation instead of just a beautiful landscape and she sees it as God's gift to her.
"If I can use my talent to put that on canvas with paint, then that way I can share my experience," she said.
Hudson paints in oils, acrylics, encaustics, or in numerous layers of pigmented wax. She also does calligraphy, or decorative handwriting, but most of her work is in oils, she said.
Hudson said she really enjoys encaustic painting, which she said is a "fun" medium. It's made of beeswax and damar resin. When it's hot, it's very pliable and easy to manipulate, but when it cools and becomes cured, it's very hard.
Encaustics is actually an ancient art form that's stood the test of time, Hudson said, noting that it was first used by the Greeks to seal the cracks in their boats. They added color to it to make it attractive, she said. It was also used by the ancient Egyptians on sarcophaguses, Hudson added.
The thing that makes encaustics so much fun to use is that so many tools can be used to create the art, she said.
Hudson said it can be dripped or painted onto the painting surface and household tools like a pot scrubber can be used to mash it down on the painting surface. That creates a "lacy" design, she said.
Hudson said she's done a few encaustic landscapes, but noted the wax "will kind of swim around on the surface," which can give an abstract look to the painting.
She said she likes encaustic painting because she loves texture and can put a lot of texture into her work.
"You can press things or scratch things into the surface while it's still warm," Hudson said. "You can embed things within it like a collage. I might do a poem in calligraphy, cut it out and put it between the layers of wax."
The poem is covered with a clear wax so that it's readable, she said.
The "Back to My Roots" exhibit will be on display at the Fine Arts Center until Jan. 29.
Hudson said she gave her exhibit that name because her roots are in Orangeburg.
"I'm circling back around with this show in Orangeburg with all my friends and former teachers and neighbors — people I grew up with," she said.
Another issue that made the name seem fitting was that her father, who passed away two years ago, spent his life working in the lumber industry.
"The study of trees has been a huge part of my life," Hudson said.
All the paintings in the exhibit are related to Orangeburg or the Lowcountry, she said.
The exhibit includes an oil-on-canvas painting of Edisto Gardens featuring cypress trees and hot-pink azaleas along the river. Also among the works are two encaustic paintings of sunflowers as well as palmetto trees on the South Carolina coast.
Contact the writer: dlinder-altman@timesanddemocrat.com or 803-533-5529.
Copyright 2016 The Times and Democrat. All rights reserved. This material may not be published, broadcast, rewritten or redistributed.
"Back To My Roots" Show
Orangeburg County Fine Arts Center
Show Opening Thursday, January 7   5:00-7:00
Halloween at The Triune Art Room…We sure do have fun!  See below the article I wrote about my weekly experiences volunteering in the Triune Art Room!
November 2015

Experiencing God at Triune                         
     Guest column from a volunteer: 
There are many faces represented at Triune Mercy Center. One is a young lady who has no running water for a shower, but she is incredibly creative and artistic.
Another is a married couple with several children, only one of whom lives with them due to past homelessness and other issues.
There is a middle-aged man who was formerly homeless and addicted to drugs, but now maintains housing and has been sober for six years.
Some are Hispanic and have trouble communicating in English.
I know these faces because of my time spent in the Art Room at Triune.
I was introduced to the Art Room a few years ago when I accompanied a group of Sprouts from Buncombe Street UMC on a tour.  An artist myself, I was impressed that there was a space in Greenville for homeless and underprivileged folks to come and use the many donated art supplies — canvases, paints, colored pencils, ceramics, yarn and more — to create their own art.
It seemed such a happy and vibrant place to spend time doing what I love.  But I was busy with other endeavors at the time and soon forgot about it. One of these endeavors was a Wednesday morning Bible study I'd been involved with for years. My all-time favorite curriculum  was Experiencing God, which I've enjoyed four times with different groups of women.
Two years ago, I was discussing with a friend the upcoming preparations for the year and she told me we were going to study Experiencing God … again.  To my surprise, I was not excited, though I supposed I'd do it once more.
That very week Triune pastor Deb Richardson-Moore was the guest speaker in my Sunday school.  She spoke about the history and philosophy of Triune, and described its ministries — the hot meals, Support Circles, Playback Café and … the Art Room. The moment she mentioned the Art Room I felt the Holy Spirit move in me. A thought bloomed in my mind, fully formed: Instead of studying how to experience God, why not EXPERIENCE GOD at Triune, in the Art Room!  What a revelation!
I made the call to Marian Dameier, Art Room director, to inquire about volunteering on Wednesdays. She quickly put me to work.  And let me just say that I have never experienced God in a more dynamic and spiritual way than I have during the past year at Triune. I have seen those faces turn to God in many different circumstances.
The talented young lady was attacked while riding her bicycle home from work in the middle of the night. During her lengthy recovery, she continues to have a generous heart and gives away all of her amazing creations.
The couple is successfully caring for their baby. The wife makes sweet love notes for her husband.
The man who lives alone is not lonely at all.  He has many friends and always has a word of wisdom for those he encounters.
And the folks who speak Spanish are quick to interpret when someone new comes to the Art Room.
After spending time at Triune, I am certain the Holy Spirit is alive and kicking in this unsuspecting place. And because of the diversity, I have a much better understanding of what Heaven is like.
Blessings,Carey Lee Hudson
These lovely ladies are the artists of Studio 201 Art Crossing in downtown Greenville.  I am a lucky girl to be a part of such a talented group!  Thank you to Alex, Nancy, Betsy, Jennifer, Melanie, Sharon, Ginger, Betsy and Starr for the laughs, advice, inspiration, critiques, companionship, encouragement, collaborations…and the wine-time!  Come for a visit to see all the great art being created at our little "happy place" on the Swamp Rabbit Trail in the heart of downtown Greenville, SC.
These two are the most awesome "drawing divas" evvvahhhhh!  They are learning about composition, values, shading, perspective, etc.  We start in paint next week…Woo Hoo!  Love these two!
I'm super excited to have begun art lessons with some awesome young folks today!  I told them I was going to teach them what I learned as a college student, beginning with learning how to "see" before anything…drawing or painting.  We learned about our graphite pencils and the differences between hard and soft lead/graphite.  We practiced different pencil strokes such as hatching and cross hatching.  We practiced by drawing a bottle and "seeing" the shape and values.  The students picked up quickly so we will introduce concepts such as perspective, value, and composition next week. I can't wait!
My niece, Emily Lide, who is a fabulous artist with the pencil and paper, joined us to show us her portfolio and tell about how she creates a finished piece of art using just the pencil and paper.
Since summer vacation, I have been painting like crazy.  I just sent three paintings to a new beach home at Folly Beach and am about to ship another off to San Francisco.  When I conceptualize an idea, make sketches, then actually finish a painting it's like giving birth to a child.  I should know, as I did it four times!  Each of my children is special and unique in his/her own way; and so far, we have had three leave the nest.  When I complete and sell a painting, whether a commission or a sale, I feel like someone has adopted my precious child and given him a new home.  I am very grateful for my own children and rejoice in them finding their way in life. And I am thankful for those who appreciate my art and choose to own a piece and give it a new home!
Since vacay is almost over, I have been painting like crazy!  I love being in the studio and now can go in almost daily!  I have several commissions I'm working on and sometimes get a wild hair and just start on something that I find inspirational.  My inspiration usually comes from my own life experiences, but sometimes I look at other artist's work and want to try a new technique or color combination.